Today is the first Sunday of Advent, the four-Sunday preparatory season before Christmas. Happy Liturgical New Year, too.
I like Advent, and not just because of the purple vestments and the proximity of my own birthday. I have fond memories of the Jesse Tree Blessing at my church when I was in 4th grade, with all the best Advent songs, and a group narration of the Annunciation story. All the 4th graders at my school also had to learn to play the recorder. The previous summer, I taught myself how to read music and got a head start with a recorder and songbook set that my parents bought me from Price Club. And thus began my musical career. Arguably, thus also began my liturgical music career.
So I set out as a liturgical music nerd towards Catholic high school, then Catholic campus ministry services in college, and various cantor/choir gigs once I finally got to the real world. One thing inevitably bothered me every single year as Advent rolled around.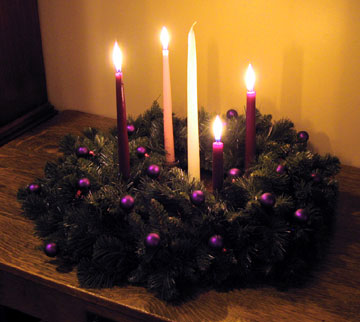 Mark D. Roberts' Advent Wreath
is properly lit in sequence!
Which candle do you light first? The
third
Sunday of Advent is the pink, joyous Sunday, therefore you light the purple candle
diametrically opposite
the pink candle. All too often, I've seen people start Advent by lighting a purple candle adjacent to the pink one, with the mistaken reasoning that the pink Sunday must be the one closest to Christmas. Not so! The fourth Sunday is purple to bring the seasonal spirit back to introspection and preparation before we get all caught up in the angels and shepherds and magi.
Yeah, it's a stupid pet peeve. And I will comment on your ill-burnt Advent wreath candles because you can't count backwards from three.